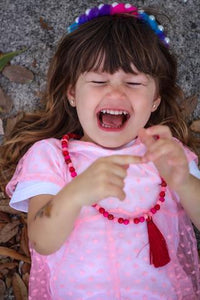 Accessorize Your Baby Girl Like A Princess with Hair Accessories
Accessories can definitely add extra charming to a woman's attire no matter she is a baby, toddler, or adult. Every mother wants her little girl to look like a star, and tries every way to add as many sparks and glitters as possible in her little princess's dressing. This makes hair accessories a must to have thing in daily life! Then a question comes - how to pair hair accessories with a variety of different dresses to give your little girl a way different style than other girls, so she could stand out of all? There are no doubts that great hair accessories can make your little girl feel beautiful, confident and complete. QKiddo has various styles of hard and soft headbands, flower crowns, animal hair clips, pretty hair ties, and many other different types of hair bows, so scroll down to take a look at some best accessories for baby and toddler girls we have showcased for your little ones. 

Oversize Velvet Bow Fairy Headband (Grey/Pink)
Handmade headband decorated with a huge bow tie flower in grey/pink. This bow tie flower headband makes children adorable and eye-catching so it complements the beauty of your sweet little girls. The headband is perfect for little princess to wear every day or in special occasions, such as festivals, photograph, party, birthday, travel, vacation, dance, etc. It is comfortable, soft and lightweight to wear.

Floral Patterns Hair Bow Headband
Handmade headband attached with a beautiful floral patterns hair bow with a very sweet look. This super soft and stretchy nylon headband is made for babies and toddlers of all ages. This headpiece is so gorgeous that it can definitely make your girl spotlight in any occasions. Each headband is carefully handcrafted with care and love. It can be used for birthday, party, Christmas gift, travel and photography of fashion headdress. 
Lace Bunny Hair Clip (Grey/Pink)
Handmade hair clip shaped into a grey/pink bunny with a pink bow, made of multiple layers with lace outside. This little bunny looks very cute on baby girls and toddlers, but also suitable for adults. One of our most popular animal hair clip. 
Sesame Street Little Monster Googly Eyes Hair Tie (Red/Blue/Pink)
Handmade googly-eyes decorated hair ties in red, blue or pink, which can also be used as bracelets. The design of this cute hair tie set originates from the children's television series: Sesame Street. These hair ties are great for sports, cheer leading, dance or everyday wear, and will look adorable on your little ones!
Above are four recommended girl hair accessories for your babies, but you can definitely find more styles in our online store. We run regular offers and have special prices throughout the year on our range of accessories. QKiddo.com is committed to offer you only the best products that are made of the highest quality materials that will last for long without causing harm to your princess' skin or forehead.
Please leave comments if you have any suggestions for our readers.
Thank you for reading!
---
1 comment