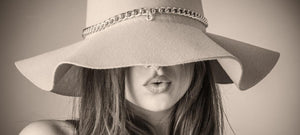 How to look like a super star model with the right hair accessories
Why should you style using hair accessories?
How often have you run out of ideas on what to put on for your date or work?  Then you start thinking to buy new clothes to add more combination of styles to your taste.  But is starting to cost you a fortune or if you're like me, living in the city, you start running out of closet space.  
Couple years back, I started to pay more attention to the models in the fashion shows and noticed that their entire outfit combined with different hair accessories made them look even more glamorous.  Then I started to think... maybe adding some variety of hair accessories while putting on different types of clothing could actually make a huge difference.  I've once seen a model dressed in a black dress put on several rhinestone hair clips which made her stand out even more elegantly.  The way the rhinestone hair clips shined on her hair combined with her outfit really caught everyone's attention.
I was never really a hair accessories enthusiast, so I went on YouTube to see how people style their with hair accessories, I came across this video.  Must see if you want to learn pro tips on how do really use hair accessories to style yourself.  
Hair Clips
At this year's 2018 at the Golden Globe red carpet, hairstylists have used varieties of hair accessories along with the black gowns worn at this event.  The use of glittering rhinestone hair clips on these star celebrities helps elevate the look appeal of the black attire. 
(Katherine Langford, Photo from fashionista.com)
(D&G Fashion Model)
So now that we talked about how celebrities are using hair accessories, below is a really cool video that I've found that shows you different ways to style your hair and use rhinestone hair clips to finish it with a spark.
Hair Ties & Ponytail Holders
Hair ties and ponytail holders such as the one Christina Hendricks worn during 2018's golden globe was a very classy velvet hair bow tie ribbon in black.  Using just something very simple and basic to hold up your hair makes it less messy if your hair is extremely curly.
Even supermodels during the France fashion week were putting on hair ties to enhance their ponytails (picture below).
(Photo from Vogue Magazine)
Headbands
During Fall/Winter Fashion Week in Paris, supermodels were wearing different varieties of headbands made from fur, crystals, black leather, just to name a few, to enhance the hair.
(Photo from Vogue Magazine)
It seems like every year at the fashion shows, more and more companies are combining the use of hair accessories with their clothing.  It just makes the entire outfit much more sophisticated.  It's going to be an ongoing trend and hairstylists are sure to include it to make their clients hair stand out from the rest.
As for what types of hair accessories you should get.  I'd say try on different types of hair clips, hair ties, ponytail holders, and headbands. Because, depending on the color and texture of your hair, certain types will make it more glamorous and outstanding while some would make your hair and outlook worst.  You'll have to experiment with it.
One mistake I did make when I first started was I bought really expensive hair accessories and limited myself from getting more variety at a lower cost.  This actually was not the right approach as when I changed my hairstyle, I didn't seem to have enough to play with.  Afterwards, I went with some cheaper ones and got myself more variety to play with so that I know what fits well with me and which are the ones I know I can dress myself up quickly for different occasions.  Experiment with different hair accessories and get to know yourself more.  Afterwards, for your favorite type, you can go and purchase the more expensive ones as those are the ones that will be your favorites.
Please leave comments if you have any suggestions for our readers.
Thank you for reading!
---
5 comments