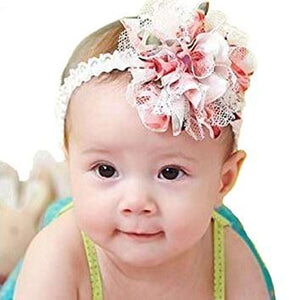 Four Things You Want to Consider Before Buying a Headband for Your Girl
Headbands are one type of beautiful hair accessories which can change your look dramatically and make you much more charming and prettier. There are two types of headbands: hard headbands and soft headbands. No matter what types of headbands, they are very popular among baby girls, toddler girls, young girls and even adult women. There are more than enough options for women to choose different colors, styles, and even structures. Besides being useful to hold back the hair, headbands help you to easily get the natural beauty in your hair, no matter to achieve a casual or formal look. You can check out our different headbands and other hair accessories for baby, toddler and adults here.
There are too many options to pick out headbands online. In order to come up with a great choice, you had better consider the following useful points, which can guide you to pick out a durable, beautiful, practical headband for your cute daughter.
Fitting:
Before purchasing a headband, it is important to consider about the fitting, because you definitely want to make sure your daughter feels comfortable to wear it, so she will not throw it off her head every minute after you put it on. Always read the product descriptions before buying a headband online. The headband can neither be too tight nor too loose for your girl.
Designs and Styles:
No doubt that different people match different designs and styles of headbands. Different skin colors and head shapes definitely have their own best perfectly matching shapes, colors, patterns, decorations on the band, etc. Moreover, the styles also need to be matched with your kids' overall outfits.
Functionality:
Another thing to consider before buying a headband is to know for what purpose you are buying it for. In another sentence, in what kind of occasions she's going to wear the headband. Adults wear different headbands for everyday and special occasions, so do our little girls. You probably don't want to dress up your girl in a wedding flower crown to go to school, which is definitely a wonderful option for a family member's or friend's wedding!
Quality construction: Last but not least, do always check out the reviews of the sellers and products before you buying any headband online. The best option is to go to a trusted store referred by friends who shopped there before. The reason to buy unique and best quality headbands is that the headband is likely to stay intact for a longer time if the construction is good.
Please leave comments if you have any suggestions for our readers.
Thank you for reading!
---
1 comment