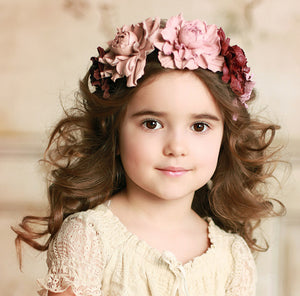 Summer 2018 Hair Accessory Trends for Your Baby Girls
Summer and hair accessories are friends forever. Summer is the time to dress your baby and toddler girls with beautiful hair accessories to go out and enjoy some play dates. As a mom of a 1.5-year-old girl, I firmly believe you definitely do not want your own girls to lose the "competition" - wearing no hair pieces while all her other little girlfriends are dressed like princesses with fantastic headbands, cute hair clips, or pretty hair ties. Now, you need to match hair accessories with her clothes. And for that we have come up with some great choices that will help you to style your little cuties. Why not do some baby and toddler hair accessory online shopping now and add beautiful hair pieces in her closet?
This stunning handmade large glitter hair bow has these charming shiny flakes work, which can be matched with any subtle as well as trendy outfit. This glitter hair bow is attached to a partially lined white alligator clip, which can be attached to your own headband, outfit as well. The glitter is high-quality glitter flakes. Why not make your little princess shine bright in any occasion by styling her with any color from the below picture? We have eight colors available, and every color looks glamorous all the time and will easily match with any attire.
HANDMADE FLOWER WREATH/FLOWER CROWN
Summers and floral designs are always the best combination. This handmade flower wreath/flower crown, attached with gorgeous roses & camellias, is very gorgeous and designed keeping in mind the current trend and style. You can easily match this one with any floral dress or even a solid color dress. It gives a very summery look, therefore it's a must buy hair accessory this summer, especially if your little one is a flower girl! The entire flowers have back support lace flowers too, everything about this piece made very detailed, and it is sure to become eye-catching piece.
8 INCH MULTIPLE LAYERED HAIR BOW BAND WITH CLIP
It's a very soft, stretchy, resilient, durable, comfortable headband, attached with an extra large 8 inch multiple layered pink hair bow and will go perfectly with any pink color dress. The multiple layers on the headband of the single extra large hair bow are giving an extravagant look. It will complete her look and will give her a charming summer appearance. This hair bow band is made of environment grosgrain ribbon material, no hurt to baby head, and won't leave any mark, which makes it a perfect headpiece for your girl when she plays with her other little girlfriends outdoor. Moreover, this beautiful headpiece has a hair clip on the back of the bow, so you can easily switch between headband and hair clip. Yes, it is multiple functions! Besides the pink color, we also have purple color for you!
Trio Of Mix Rhinestone Flowers & Pearl Headband
It's a very stylish piece with three bloom details to give your baby girl extremely stylish look. The white pearls and beautiful rhinestones add additional cuteness and shine in the attire she wears. As this hair accessory will make her glitter, you can buy the one which matches with your baby girl dress from the below four colors. Besides, this hair bow band is very soft and absolutely comfortable, made of environment cotton material, no hurt to baby head, and won't leave any mark, making it a perfect headpiece for your girl when she runs around and plays with her other little girlfriends outdoor. 
Buy baby hair accessories with us and style your little girl like a diva. You will find plethora of baby hair accessory options online. So, take out some time and think to buy that perfect headbands, hair clips, or hair ties for your princess. Hope the above options may help you out. Welcome to explore more options at QKiddo.com! We will offer more recommendations for the summer in the next blog articles.
Please leave comments if you have any suggestions for our readers.
Thank you for reading!
---
1 comment